La organización de la 5ª edición del MESIC  acordó premiar por votación popular de los asistentes a los mejores posters presentados en el congreso. Los premiados fueron:
"Damaged Area based Study of the Break-IN and Break-OUT defects in the Dry Drilling of Carbon Fibre Reinforced Plastics" , autores P. Mayuet, A. Gallo, A. Portal, P. Arroyo , M. Alvarez, M. Marcos de la Universidad de Cádiz.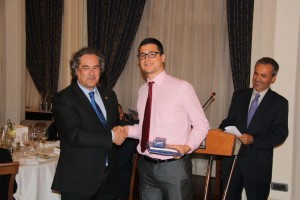 Segundo poster premiado es "A Metrological Evaluation of Secondary Adhesion Wear effects in the Dry Turning of UNS-A92024-T3 alloy through Focus-Variation Microscopy (FVM)" autores  D. García-Jurad, J.M.Mainé, M.Batista, L.Shaw, M.Marcos de la Universidad de Cádiz.
Y finalmente al poster  "Comparative study about the use of two and three-dimensional methods in surface finishing characterization", autores A. Sanz Lobera, A.A. Negre, R. Fernández, F. Calvo de la Universidad Politecnica de Madrid